After putting up with the seemingly never-ending drizzle, the winds that chill you to the bone, and all the stress at work, we Brits welcome our holidays with open arms.
And if you plan on checking out a beach or two while away, you'll be glad to hear some of the best beach clubs are in Ibiza. All with different atmospheres and unique attributes, there's a club that'll fulfil your desires. So here are the best beach clubs in Ibiza to help you choose where you'll hang out on your holiday.
Ushuaia Beach Club Ibiza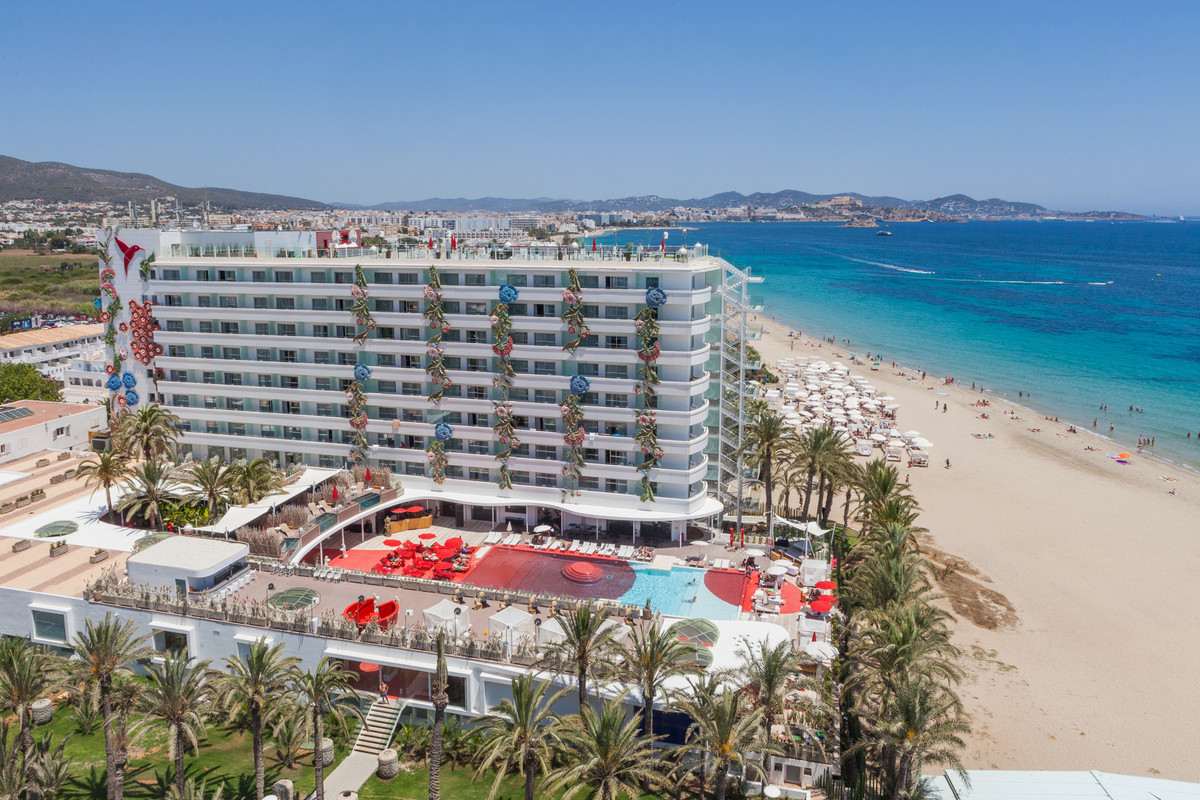 Photo: Ushuaia Ibiza Beach Hotel on Facebook
Where: Ctra. de Platja d'en Bossa, 10, 07817 Sant Jordi de ses Salines
If you're going to Ibiza for a hedonistic, music-fueled session, chances are you're already familiar with the name Ushuaia. Ushuaia is one of Ibiza's biggest, best nightclubs. But the brand also owns a hotel and, more importantly, a beach club. After a long night (or day…. Or both) of partying, relaxing at Ushuaia's beach club is a great shout. Save up some energy for your next outing by sipping on a cocktail, tucking into a Mediterranean meal, and melting into the relaxing music before heading out for another night of carnage.
---
Beachouse Ibiza
Where: Carrer 34 de la Platja d'en Bossa, 07817 Sant Jordi de ses Salines
This beach club might be the best on this list for families. But truth be told, it's a cracking beach club that anyone will fall in love with. Beachhouse is easily one of Ibiza's most popular beach clubs and one of its newest. And it's incredibly easy to see why it's so popular when you consider the morning yoga, healthy, delicious food, gorgeous aesthetic and ocean views. But the reason we love the Beachouse for family holidays is because of the kid's area, where they can get stuck into some arts and crafts, unleashing their creativity. It's perfect for keeping them entertained. Especially if you fancy a kip.
---
Nassau Beach Club Ibiza
Where: Ctra. de Platja d'en Bossa, s/n, 07817
Nassau is known for many reasons, including its entertainment. For one, the club hosts monthly moonlit dinner events featuring shows and live music. If that doesn't do it for you, there are the occasional fire jugglers, DJs and live shows too. You can also expect delicious grub served indoors and outdoors, a chill-out area and a cocktail bar with a drinks menu so long you might struggle to choose what you're drinking. Sprawled out on a sofa or daybed with tasty food and a fancy cocktail - it's pretty much all we could want. With all this and fantastic service, you really can't go wrong with Nassau Beach Club.
---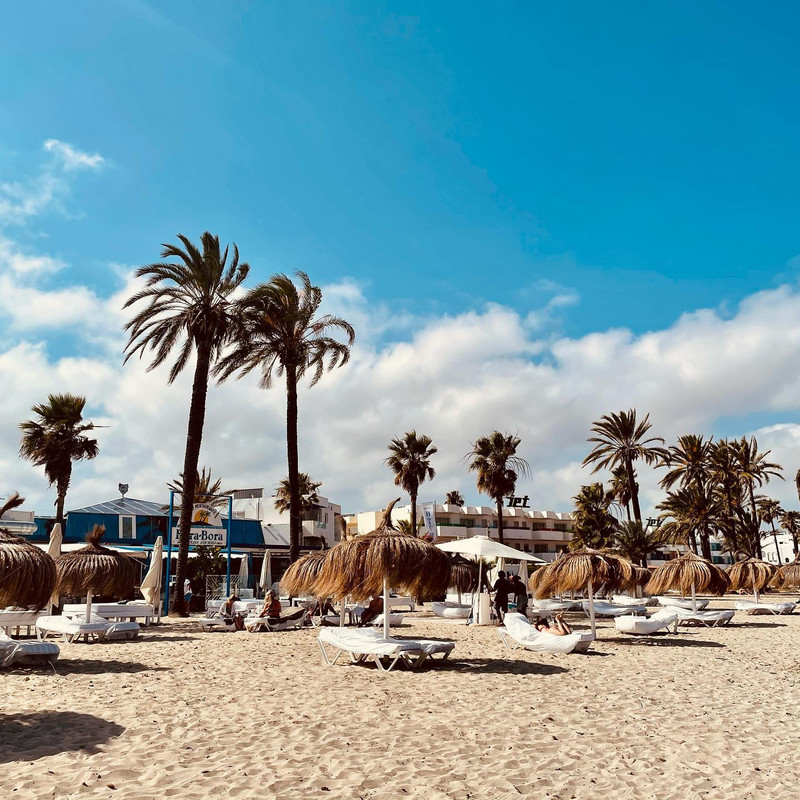 Photo: Bora Bora Beach Club on Facebook
Where: Playa D'en Bossa, s/n, 07817 Sant Josep de Talaia
Named after the lush island group surrounded by turquoise waters, Bora Bora Beach Club has grown to become one of the world's most famous beach clubs. And when you see it, you'll know why. The beach is stunning and the parties are mad. The daytime atmosphere is more relaxed with the party kicking off in the evening after the partiers have caught up on sleep and topped up their tans. As the club will be celebrating its 40th anniversary this year, we're certain the club will have some unreal events alongside its evening discos. With all this in mind, Bora Bora beach club might be the best of Ibiza's beach clubs for your 2022 getaway.
---
El Chiringuito Ibiza
Where: Carretera de l'Arenal, 35, 07610 Palma
If you're the kind who likes to check out beautiful beaches, El Chiringuito might be the best beach club in Ibiza for you. El Chiringuito is situated on Es Cavallet. Covered in soft white sand surrounded by pines and the sea that twinkles in the light, Es Cavallet is simply gorgeous and possibly the prettiest beach on the island. Just be aware that if you wander away from the beach club, you may (most likely will) see a few naked people as Es Cavallet is a nudist beach. With the wooden and white fabric decor, a lovely beach, an impressive drinks menu, and tasty food made with locally sourced ingredients, this beach club will be adored by most.
---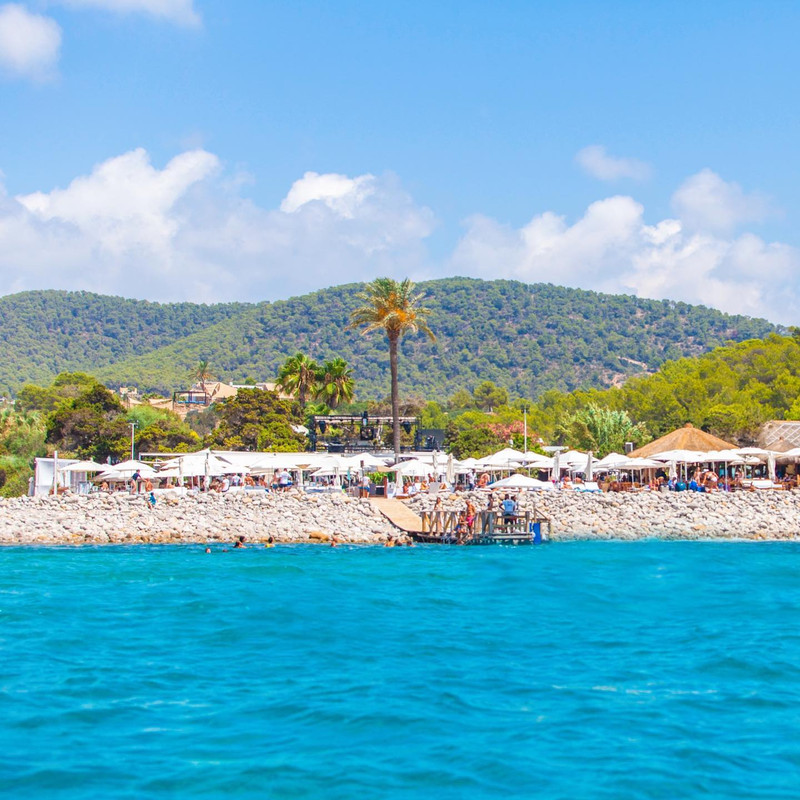 Photo: Blue Marlin Beach Club on Facebook
Where: Playa Es Jondal, S/N 07840
The Blue Marlin beach club in Ibiza has long been a favourite of the rich and famous and those who want to revel in that exclusive, high-end feel. Generally relaxed in the morning, the party kicks off in the afternoon with the help of international DJs, a crazy crowd, and an enormous cocktail menu. And if you went too hard the night before and need some rest and recuperation, there are big comfy beds you can hire where you can catch some ZZZs because napping on a beach simply cannot be beaten. Stylish, glamorous, and lush, a day or evening at Blue Marlin will leave you feeling like a VIP.
---
Sa Trinxa Ibiza
Where: Playa de Ses Salines, S/N, 07830 Sant Josep de sa Talaia
If you know the history of Ibiza, you'll know many people associate the island with hippies due to the flower power movement and massive influx of creatives between the 1930s and 70s. Sa Trinxa is a beach that (despite all of the island's changes) has maintained that old school, hippy Ibiza vibe. Another lovely, unique feature of the beach is its green walkway to the sea, perfect for perching on as you soak your feet and feel the ocean breeze through your hair. And, if you're lucky and remember your goggles, you might spot an octopus or some other marine life in the sea.
---
Tanit Beach Club Ibiza
Where: Carretera de Playa d'En Bossa 07817, Sant Josep de Sa Talaia
Getting on it all day every day isn't for everyone. It takes its toll eventually. And when it does, you can find comfort, relaxation and escape at Tanit Beach Club. The beach club, which is the sister club of Nassau, takes its name from the goddess of dance and creation. Tanit is more family-oriented than Nassau, with a kids club full of games and activities to keep the littluns busy while you sink a few more margaritas and have a sun-soaked nap. Great food combined with chill music, huge daybeds, a cocktail bar, and the occasional fire show makes Tanit heaven on earth.
---
Nikki Beach Ibiza
Where: Avinguda de s'Argamassa, 153, 07840 Santa Eulària des Riu
Despite an Instagram page filled with photos that ooze serenity, Nikki Beach Club actually has quite the reputation for its spirited atmosphere. The club was Ibiza's first and basically the blueprint for all other Ibiza beach clubs. And it has almost everything you need. It's in a beautiful location (just off Santa Eulalia), it also has a pool, food, drinks, comfy beds, live music on saxophone or violin, a packed events calendar, and more. A luxury global brand, Nikki Beach is one for those who want to go all out on their holidays and feel like a star.
---
Ready to check out some Ibiza beach clubs in 2022? You know you want to! And with brilliant entertainment, unbelievable food, and that warm, relaxing atmosphere, it'll be worth it. All that's left to do is choose which cocktail you'll be sipping on first.
---
---
Check out our What's On Guide to discover even more rowdy raves and sweaty gigs taking place over the coming weeks and months. For festivals, lifestyle events and more, head on over to our Things To Do page or be inspired by the event selections on our Inspire Me page.


Header image: Beachouse on Facebook