When in Ibiza, clubbing isn't just evening entertainment, it's a way of life. So it's wrong on every possible level to not check out a club or two during your stay. But the problem with being on an island known for its parties is that dozens are going down at any given moment. And you don't want to waste your time; you only want the best clubs in Ibiza.
And since you spent your hard-earned cash getting out there, and as Ibiza enthusiasts ourselves, we want to help you choose the right club for you. We picked out the best clubs in Ibiza you should consider checking out when you touch down on the White Island. You can thank us later.
Where: Avenida 8 de Agosto, 07800 Ibiza, Islas Baleares
Upcoming events: Solomun (residency), Flower Power (every Monday), Music On (every Friday)
How could we write about Ibiza's best clubs without mentioning what might just be the world's most iconic club? Pacha, recognised by its famous cherry logo, has been leading the world's club scene since 1973. Famous for pioneering dance music in Ibiza, attracting celebrities, and its unmatched style, Pacha is always a great shout and is an absolute must if you haven't been already.
---
Where: Platja d'en Bossa, 07817 Sant Josep de sa Talaia
Upcoming events: Glitterbox (every Sunday), Black Coffee (residency)
While Hi Ibiza isn't a gay club, its famous Glitterbox nights have always been popular with the community. With zero judgement, amazing vibes and over the top glitz and glamour, it's a must for anyone looking to dance like no one's watching until they physically can't any longer. And Hi's killer light shows and enviable sound system (Hi has the best tech in Ibiza thanks to being the newest club) will surely create the perfect environment to check out the grammy-winning house DJ Black Coffee in.
Find tickets for events at Hi Ibiza - here
-
---
Where: Playa d'en Bossa 10, 07817 Sant Jordi Ses Salines
Upcoming events: Calvin Harris (residency), Ants (weekly), Elrow
Hi's open-air sister club Ushuaia offers an array of mind-blowing club experiences thanks to an abundance of delicious events, massive LED screens, and passionate ravers. In terms of events in 2022, there's Ants which starts on Saturday afternoons and takes you all the way to midnight, Calvin Harris has a residency this year and the huge, widely adored event brand Elrow will be taking over too. Since you're in such a stunning country, it only makes sense to lap up as much sun as possible at this open-air club before returning home to drizzle and clouds.
Find tickets for events at Ushuaia - here
-
---
Where: Eden Ibiza, Calle Salvador Espriu, San Antonio, 07820
Upcoming events: Louder Events, Louder Closing Party
Superclub Eden is a fantastic shout, especially since it was recently renovated. This year, Eden will be blasting the sounds of some of the hottest current DJs at their Louder events. Chase & Status, Kings of the Rollers, Wilkinson, Sub Focus, Hybrid Minds, Bru-C, Andy C, and Skepsis are among the many artists on the bill that'll be keeping the parties raging until the birds start chirping. The club itself is massive, fitting around 5,000 party animals, it also has two VIP areas, multiple levels, one of the best sound systems on the island, and all the cocktails you can manage. If that hasn't sold you, we don't know what will.
Find tickets for events at Eden - here
-
---
Where: Carretera Ibiza a San Antonio Km5, San Rafael, Ibiza
Upcoming events: Elrow Amnesia (every Saturday), Pyramid Parties (Sundays from 12th of June - 9th of October)
Amnesia is a must for more reasons than we have time and space to list, so we'll just focus on the highlights. First of all, Amnesia was Ibiza's first club. It's a crucial piece of the island's history and if you're on the island, it's not something you'll want to miss. It's also simply stunning (peep the pictures above). And, surprise, surprise, Amnesia hosts some killer parties that gain a second wind of energy when the sun rises, beaming light and new energy through the glass-roofed terrace. Easily one of the best clubs in Ibiza, a trip to the island is incomplete without a massive sesh in Amnesia.
---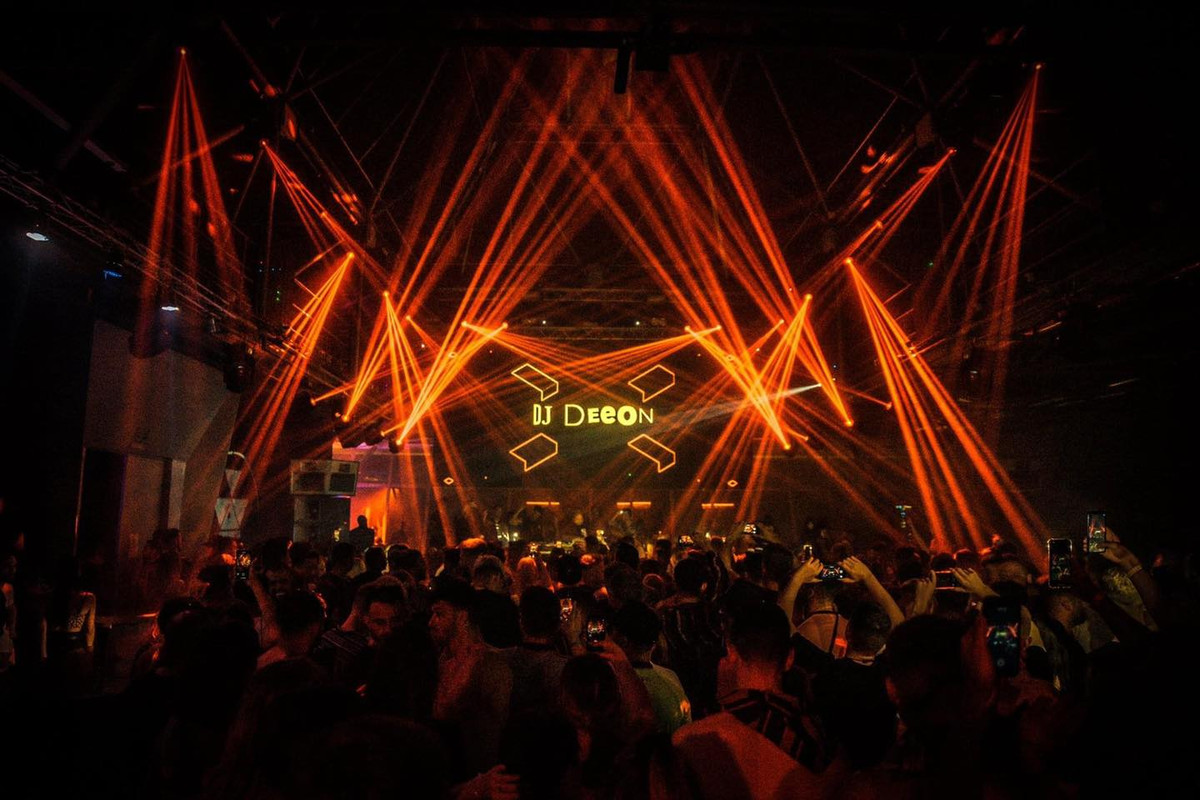 Photo: Privilege on Facebook
Where: Urbanización San Rafael, s/n, 07816 Sant Antoni de Portmany
Upcoming events: to be announced
According to the Guinness Book of Records, Privilege Ibiza (formerly known as Ku Club) is the world's biggest club packing in an insane 10,000 people. If you're looking for an experience akin to what you see in the movies, this is it. Privilege has a pool in the centre of the dancefloor, blasts the tunes until the early hours, has an area encased in a glass globe, has hosted the island's wildest parties, and offers a completely unique experience.
---
Where: Carretera las salinas, km 1, 07818 Sant Josep de sa Talaia
Upcoming events: Circoloco (every Monday), Carl Cox (residency), Trick
A lesser-known club, DC10 is considered one of Ibiza's best for techno bangers. Set to be one of Ibiza's best clubs in 2022, DC10 has secured some of the biggest names including Peggy Gou, Tale of Us, Maceo Plex, FJAAK, and Michael Bibi for Circoloco, and Carl Cox, who has an eight-week long residency. The club's Circoloco events go down a treat with travelling partiers and locals alike with the best DJs. If you make the pilgrimage be sure to keep an eye or ear out for the aeroplanes flying overhead as the club sits beside a runway.
---
Where: Carrer de la Murtra, 5, 07817 Sant Josep de sa Talaia
Upcoming events: Xcandalous (Saturdays), Safari (Sundays)
The reality is, you can be a massive partier but not really get house and techno tunes. And that's okay. Perhaps you'll find Swag Ibiza to be more your vibe. Swag leaves the music you associate with Ibiza at the door, championing black music instead such as RnB, hip hop, trap, afrobeats, dancehall and reggaeton. The first of its kind on the island, the club has a capacity of around 1,000 people, is situated next to the beach, and you can even stay in the same building for ease of access.
---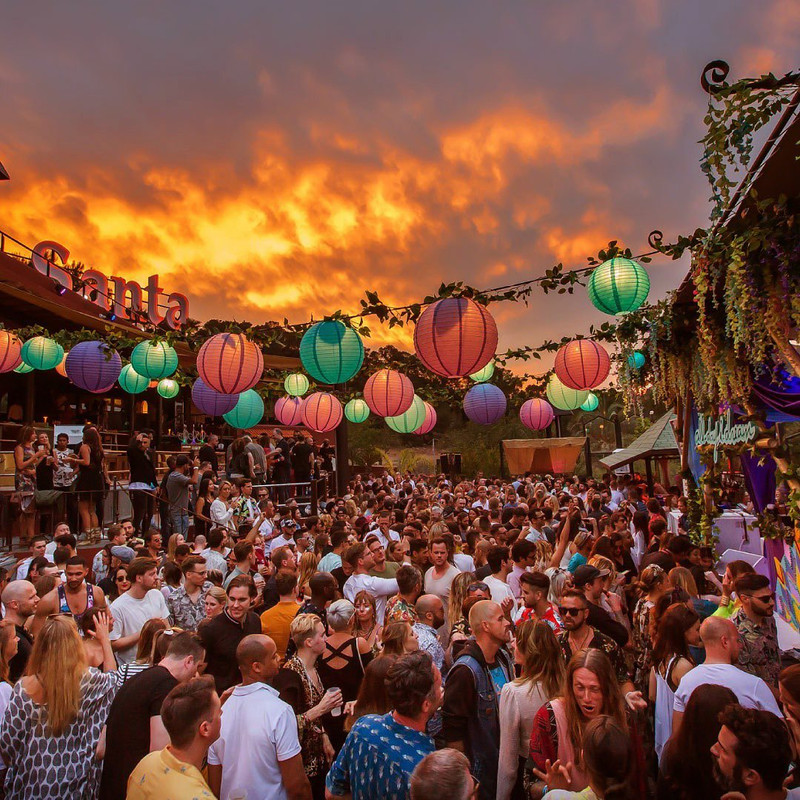 Where: Ctra. San José, km 7 (desvío Sa Caleta), 07817
Upcoming events: to be announced
If you need a little break from pure hedonism, there are some softer, more sophisticated venues you can check out like Cova Santa, a beautiful "gastroclub" built around a cave in Ibiza's countryside. With impressive dishes, flamenco shows and the occasional party, it's a great place to recuperate without feeling like you're missing out on Ibiza's party vibe.
---
Where: Carrer de les Alzines, 07800 Eivissa
Upcoming events: Urban Club Culture (Saturdays)
Formerly known as Sankeys and Kiss, Octan is an underground club with three rooms full of house music, a terrace, and a massive sound system. And it's one of the cheaper clubs on the island! If you're in the right place at the right time in Playa den Bossa, you might even be offered free entry. A brilliant place to rave the night away, Octan was crowned number 58 on a list of the world's best clubs by the International Nightlife Association.
---
So, as you can see, you're spoilt for choice! There are so many mindblowing clubs in Ibiza; the island is home to some of the best in the world. From sun-drenched poolside parties to dark raves soundtracked by the most in-demand DJs of today, there are bucket loads of Ibiza clubs open in 2022 that'll leave you craving for more.
---
---
Check out our What's On Guide to discover even more rowdy raves and sweaty gigs taking place over the coming weeks and months. For festivals, lifestyle events and more, head on over to our Things To Do page or be inspired by the event selections on our Inspire Me page.


Header image: Hi on Facebook