Terminal V Festival 2024 Tickets
About Terminal V Festival 2024
Terminal V Festival returns for 2024!
Early Bird Tickets are on sale now for a very limited period. This includes 6 Month Payment Plans.
Full Line-up coming later this year.
Expect another 2 unforgettable days of incredible global techno and house artist, unique stages and mind bending production on our indoor and outdoor festival site at The Royal Highland Centre + Showground in 2024.
Music genres: House, Techno, Minimal Techno, Hard Dance
Terminal V Festival Reviews
Our visitors have reviewed Terminal V Festival 857 times. Read reviews of this festival »
Average rating:
3.9/5
from 857 reviews
Terminal V Festival line up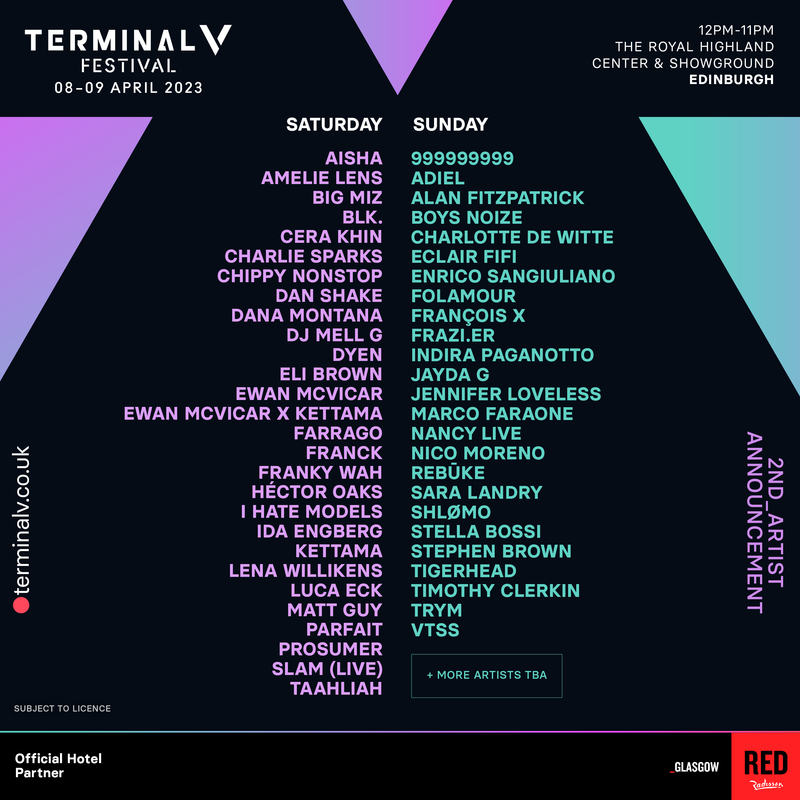 Terminal V Festival information & FAQs
How much are Terminal V tickets?
How do I get to Terminal V?
Accessibility at Terminal V
Does Terminal V have onsite camping?
Are pre-payment plan tickets available?
Will there be strobe lighting at Terminal V?
Does Terminal V have any age restrictions?
What happens If I bought a ticket and cannot attend?
Can I bring my own food and drink into Terminal V?
What time do you recommend arriving to Terminal V?
Can I leave and re-enter Terminal V?
When is last entry to Terminal V?
Can I bring a bag into Terminal V? Are there cloakrooms?
Can I smoke at the Terminal V festival site?
Where can I read all terms of Terminal V?
Map of Hotels near festival site
Try our fully interactive map of all nearby hotels and accommodation. Please check location and dates before booking.
Explore similar festivals to Terminal V Festival
Find similar festivals by exploring the categories and classifications below:
Categories: Budget festivals, Dance Music festivals
Type: Music festivals
Size: Large sized festivals
Amenities: Toilets