About 51st State Festival 2021
This August 51st State Festival returns to London's Trent Park for its sixth edition. The festival is here to join the dots between seminal house music figures and the new artists breaking through today. This is one of the most diverse festivals you can find within dance music, there's everything from garage to Acid House, dancehall and more!
Past iterations have featured big names such as Carl Cox, DJ EZ, Jocelyn Brown and Basement Jaxx. This year is no exception in terms of the quality that they're bringing to London. The main stage will become home to Hannah Wants, Roger Sanchez, Dimitri From Paris and more. With over 100 artists playing across 7 stages, you really are spoiled for choice with this one.
Start planning your outfit now as 51st State Festival is the place to be if you love house music, bringing in your favourite pioneers and trailblazers from across the globe.
Music genres: House, UK Garage, Deep House, Soul, Disco
51st State Festival Reviews
Our visitors have reviewed 51st State Festival 123 times. Read reviews of this festival »
Average rating:
3.9/5
from 123 reviews
51st State Festival line up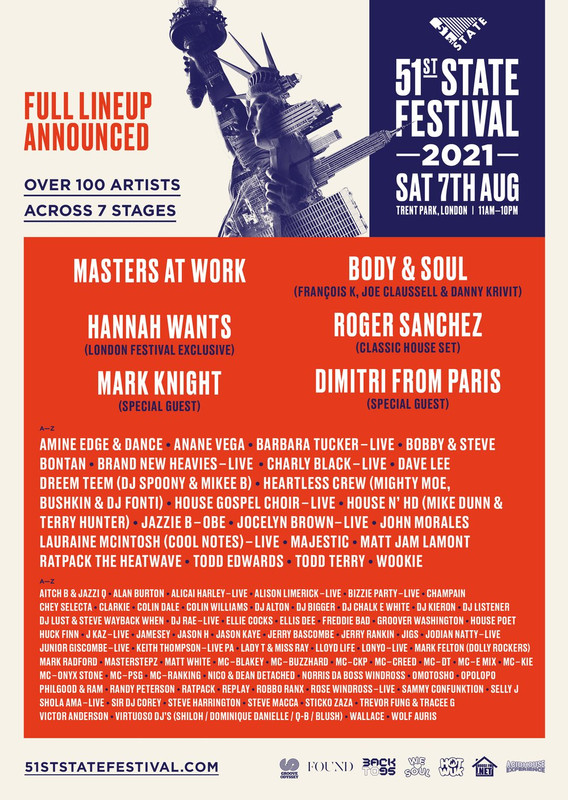 51st State Festival information & FAQs
Disabled Access Information
Travelling to/from the festival
Map of Hotels near festival site
Explore similar festivals to 51st State Festival
Find similar festivals by exploring the categories and classifications below:
Categories: Dance Music festivals, Budget festivals
Type: Music festivals
Size: Medium sized festivals
Amenities: Toilets