This event has already happened!
This event occurred in September 2019. If you're looking for a upcoming event, try the links below:
Reviews of this event
Click here to view all reviews or add your own »
Baltic Weekender - September Edition

on Friday 27th - Saturday 28th September 2019

For the most up-to-date information about this event, please go here: Baltic Weekender Festival Guide

FINAL INFO & UPDATED SET TIMES

So, the day is finally here, the final info you need for the September Edition of Baltic Weekender.

Firstly, there are a few tickets floating around on Skiddle if you are fast >> https://www.skiddle.com/festivals/Baltic-Weekender/

— Wristband Exchange is from 5pm-8pm Friday & 4pm-7pm Saturday. Wristband exchange takes place inside Brick Street, have your ticket ready and if you have bought as a group you must arrive together.
-- Beware that Weekend tickets cannot be reused or reissued on Saturday, so please look after them!
— Please note the set times and maps below to know where you need to be, each venue has a limited capacity so please head early to ensure you get in to your preferred venue, if a larger artist is performing
-- Be kind to everyone and dress to dance!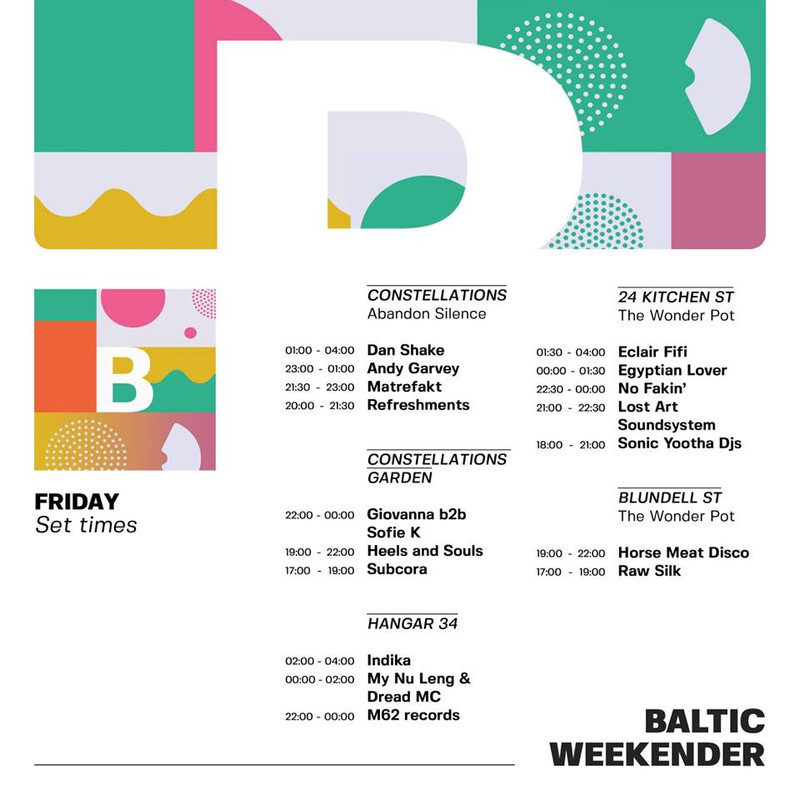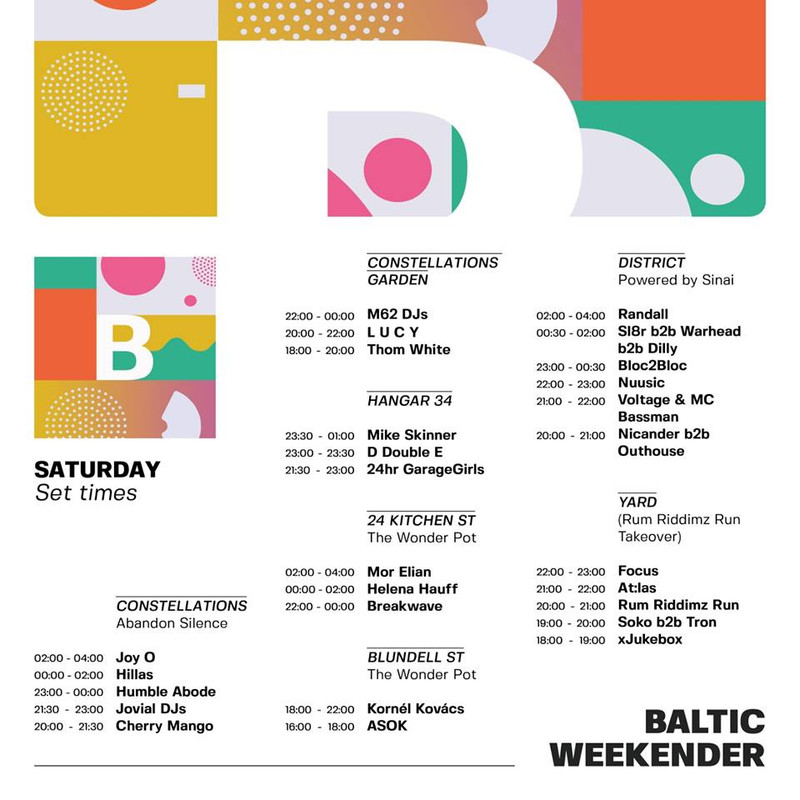 Personal Assistant / Essential Companion Information:
For this event, we're using the Skiddle Access Scheme by offering Personal Assistant tickets for customers who need to be accompanied. A Personal Assistant ticket is to be offered for free or discounted when somebody with a disability requires a carer to be in attendance with them. To automatically be eligible, please provide a copy of one of the following pieces of documentation listed below.
- Front page of DLA / PIP (no specific rate)
- Front page of Attendance Allowance letter (no specific rate)
- Evidence that registered severely sight impaired (blind)
- Recognised Assistance Dog ID card
- Credability's Access Card
If this applies to you then, please book the tickets you require (not including the Personal Assistant ticket) and contact the Skiddle Customer Care team with your documentation along with your 16-digit order reference number by submitting a support request here: https://help.skiddle.com/hc/en-us/requests/new
Music Genres:
Acid House, Bass Music, Grime, House, Techno

Please note: The event information above has been added by the organiser. Whilst we try to ensure all details are up-to-date we do not make any warranty or representation as to the accuracy or completeness of the information shown.
Baltic Weekender - September Edition news