About We Are FSTVL 2022
The 5 time award winning dance music show, We Are FSTVL has grown year upon year, proving itself as one of the biggest players on the dance festival circuit since its inception in 2013. With the dawn of 2022 heralding We Are FSTVL's ninth edition, the UK's most celebrated dance festival (Best Dance Event at 2016's UK Festival Awards) continues to grow, combining innovative stage designs and mind-blowing production with a varied mix of genres from across the dance music spectrum.
Bringing together the world's biggest names in dance music, underground and grime, alongside some of the world's leading dance music brands and labels, We are FSTVL 2022 will play host to over 300 acts across 30 arenas between 6th - 7th August, with an all-star billing announced as part of the phase one line-up announcement.
Not content with hosting an expansive world class line-up, We Are FSTVL places a huge emphasis on production to create an unrivalled festival experience. Custom built structures give each arena its own distinctive identity to create a series of parallel worlds.
Music genres: House, Techno, Tech House, Grime, Bass Music
We Are FSTVL Reviews
Our visitors have reviewed We Are FSTVL 88 times. Read reviews of this festival »
Average rating:
3.7/5
from 88 reviews
We Are FSTVL line up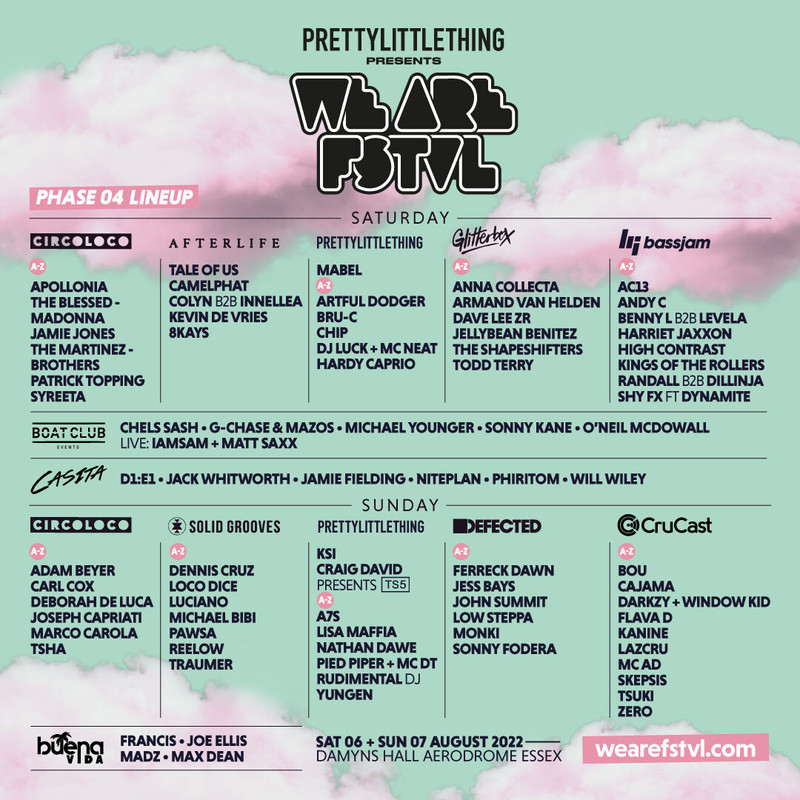 We Are FSTVL information & FAQs
When is We Are FSTVL 2022?
What happens If I bought a ticket for We Are FSTVL and cannot attend?
How to get to We Are FSTVL
Disabled access information for We Are FSTVL
What are the event times for We Are FSTVL?
Does We Are FSTVL have onsite camping?
Does We Are FSTVL have any age restrictions?
Can I bring my own food and drink into We Are FSTVL?
Map of Hotels near festival site
Try our fully interactive map of all nearby hotels and accommodation. Please check location and dates before booking.
Explore similar festivals to We Are FSTVL
Find similar festivals by exploring the categories and classifications below:
Categories: Budget festivals, Dance Music festivals
Type: Music festivals
Size: Medium sized festivals
Amenities: Toilets