About The Tidyland Weekender 2023
Ladies & gentlemen, boys & girls; we proudly present to you the wondrous, the mysterious, the spectacular and the downright crazy, Tidyland Weekender Festival!


Celebrating 20 years of the most infamous 72 hour party in the world, the Tidyland Weekender Festival see's us invite you to the hallowed grounds of Pontins Prestatyn for a weekend filled full of fun & excitement.


Featuring a new & improved event schedule, 'Tidyland' sees us refresh the Weekender format into a full on Festival with new day time big top arenas, surprise additions to the line up, fairground, new day time activities and of course the legendary night time arenas. All this plus the fun of the original Weekenders turns Tidyland into one unmissable party!


This event replaces the twice postponed 'Tidy 25' Weekender with all existing tickets still valid for the new event.


We hope you can join us on the 8th, 9th and 10th of July 2022 for what is set to be one of the biggest events in our history
These tickets are the last remaining tickets available for the event.
Tickets for rooms include accommodation, passes to all entertainment and venues.
Day passes give you 24 hour access to the event (from 12pm - 12pm) and DO NOT include accommodation
PLEASE NOTE – Your Saturday day pass will end 10am Sunday morning after the Vicious Circle After party.
For full event information, FAQ's and further details, please visit
tidyland.co.uk
The Tidyland Weekender Reviews
Our visitors have reviewed The Tidyland Weekender 5 times. Read reviews of this festival »
Average rating:
5/5
from 5 reviews
The Tidyland Weekender line up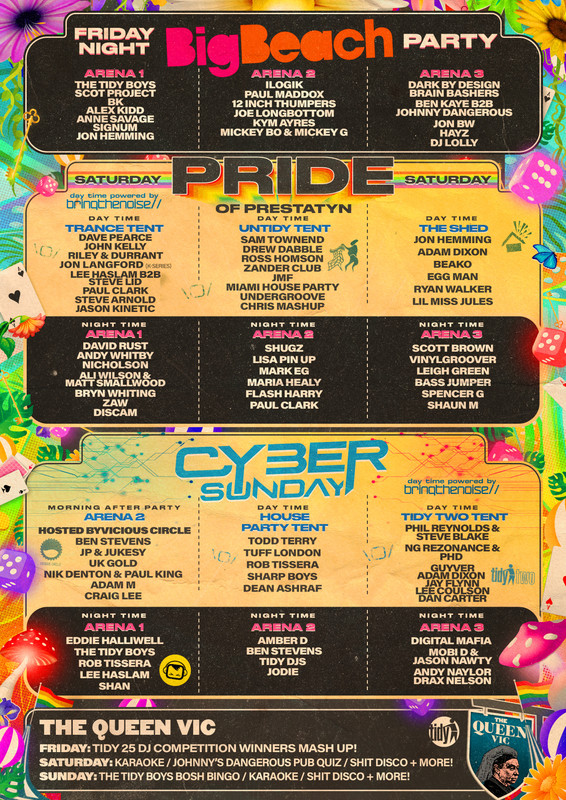 The Tidyland Weekender information & FAQs
Event Security, Drug Policy & Prohibited Items
How to get to The Tidyland Weekender?
Is there any camping at The Tidyland Weekender?
What happens If I bought a ticket and cannot attend?
Explore similar festivals to The Tidyland Weekender
Find similar festivals by exploring the categories and classifications below:
Categories: Dance Music festivals, Budget festivals
Type: Music festivals
Size: Small sized festivals
Accommodation: On-site Apartments / Chalets facilities, Standard Camping facilities